Algirdas Julien Greimas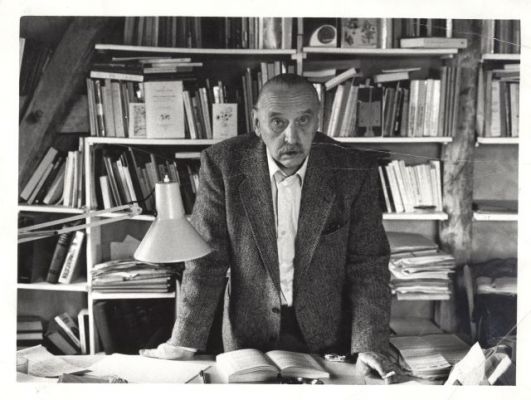 Greimas, Algirdas Julien (born 9 March 1917 in Tula, Russia, died 27 February 1992 in Paris, buried in Kaunas), a linguist, semiotician, scholar of mythology, essay writer. Graduated from Marijampolė Rygiškių Jono gymnasium, studied law at Vytautas Magnus University in Kaunas (1934-35) and linguistics at the University of Grenoble (1936-39).
            Greimas spent the years of the Second World War in Lithuania and got involved into anti-Nazi movement at this time. Some forty years later, he acknowledged that his war-time experiences determined his intellectual development. In an interview for Le Quotidien de Paris, he said: "Undoubtedly, my 'intellectual' route cannot be fully understood without taking into account my origins, embedded as they are in the hazards to which Lithuania was exposed when I was young: to be a semiotician is to ask the question of sense. Now, the war, its absurdity engendered anxiety about the sense of all the ignominy happening right in front of your eyes. This was my psychological 'founding background.'"
            Greimas returned to France in 1944. In 1948, he defended the doctoral thesis Fashion in 1830 (La mode en 1830; published in 2000) and thereafter lectured at the universities of Alexandria, Ankara, Istanbul, and Poitier. From 1965 onwards, Greimas directed a seminar on semio-linguistics, which gave rise to the Paris school of semiotics. Greimas wrote most of his works on linguistics and semiotics in French, while his studies of mythology and essays were written in Lithuanian. His major works in lexicography include Dictionnaire de l'ancien français (1968) and Dictionnaire du moyen français: la Renaissance (with Teresa M. Keane).
            The largest body of Greimas's work develops a general theory of meaning, which he laid out in Structural Semantics (Sémantique structurale, 1966), On Meaning (Du sens, 197o), Maupassant: The Semiotics of Text (Maupassant. La sémiotique du texte, 1976), The Social Sciences. A Semiotic View (Sémiotique et sciences sociales, 1976), Semiotics and Language: An Analytical Dictionary (Sémiotique. Dictionnaire raisonné de la théorie du langage, vol. 1 with Joseph Courtés, 1979; vol. 2 with other co-authors, 1986); On Meaning II (Du sens II, 1983), On Imperfection (De l'imperfection, 1987), and The Semiotics of Passions (Sémiotique des passions, with Jacques Fontanille, 1991). Greimas framed the description of the elementary structures of meaning in narrative syntax which serves as a tool for the analysis of all "languages" broadly understood. According to his theory, all human activity, conscious or unconscious, amounts to an ongoing process of acquiring and losing valuable objects, while the exchange of such objects determines the interconnection between the cognitive, the ethical, and the aesthetic in one's life.
            From narrative theories Greimas moved to the issues of modality and then intersubjectivity, from structures based on categorial oppositions to the analysis of aspectuality, tensiveness, and originary formation. Drawing on the work of Georges Dumézil, Claude Lévi-Strauss, and Marcel Detienne, Greimas developed a method for reconstructing Lithuanian mythology, which he applied in the studies Of Gods and Men (Apie dievus ir žmones, 1979) and In Search of the Nation's Memory (Tautos atminties beieškant, 1990), as well as in the analyses of the myths of Palemonas and of Gediminas's dream, which survived in manuscripts.
            For Greimas, myth is the figurative form of the society's ideology and the narrative that answers the essential questions of human existence, which is also reflected in his co-edited anthology Mythology Today (with Keane, 1996). He published journalism and literary criticism in the press of the Lithuanian diaspora and, from 1989 onwards, in Lithuanian periodicals, as well as co-authoring, with Saulius Žukas, Lithuania in the Baltics: Aspects of History and Culture (La Lithuanie: un des pays baltes, and Lietuva Pabaltijy: istorijos ir kultūros bruožai, 1993). Researchers in Greimassian semiotics and its extensions work across Europe, Latin America, and Canada.
             Books by Greimas, published in Lithuanian, include
                        Semiotics (Semiotika), 1989;
                        From near and far (Iš arti ir iš toli), 1991;
                        Of Gods and Men. In Search of the Nation's Memory (Apie dievus ir žmones. Tautos atminties beieškant), 1990;
                        Living and Thinking (Gyvenimas ir galvojimas), 1998;
                        The Quest for Fear (Baimės ieškojimas), 1999;
                        On Imperfection (Apie netobulumą), 2004;
                        Structural Semantics (Struktūrinė semantika), 2005; and
                        Studies in Lithuanian Mythology (Lietuvių mitologijos studijos), 2005.
             For the full bibliography of the Lithuanian publications by Greimas please visit the Bibliography page on this website.